Jigglypuff.biz.ly
Jigglypuff
Welcome to Jigglypuff.biz.ly the biggest up-to-date Jigglypuff fansite in years. Jigglypuff.biz.ly is always updating, check out the SHOP or JIGGLYSTUFF where you can purchase new Jigglypuff products from Hot Topic. Also check out the POKEMON PINK (PPV) page and support it. Get Jiggly!
Listing Site Updates
Jigglypuff.biz.ly updating on the ugly banners that have suddenly appeared. A lot of people seem to be unhappy with them and be sure they'll be gone within the next couple months OR you can donate and make them go away ASAP. It's only $10 for an entire year, so if 20 people donated $0.50, that could work. Otherwisethe banners will be up for a couple months, just ovelook them.
04/25/08

Jigglypuff.biz.ly updates! Created a new Blog page! The blog will share all the news you can handle on Jigglypuff and other Pokemon stuff. Check out the newest and first blog on a Diamond and Pearl Follow-Up Here. Also added the new PPV Campaign Page you can check that out on the Pink Pokemon page. More to come on the Pokemon Information page soon!
04/19/08.
Jigglypuff.biz.ly updates in Get Jiggly! Which is an exclusive Jigglypuff.biz.ly feature that surveys you. a new Blog in progress, this blog will keep everyone in on the Jigglypuff news, like where to find hot new Jigglypuff items and great new games featuring him.
P.S. Happy Birthday to Victoria Beckham!
04/17/08.
Jigglypuff.biz.ly updates in Jigglystuff. The Shop has been deleted and added to the Jigglypuff Stuff page which is now just Jigglystuff. Added Hot Topic products. Coming Soon: Jigglypuff Cards, Video games, and more.
04/15/08.

Jigglypuff.biz.ly updates in Pokemon and on the Home Page.
04/14/08.
Jigglypuff.biz.ly is a new website. Please note that it's still a bit under construction but should be completed is the next couple of days.
04/13/08.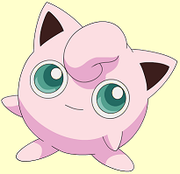 Jigglypuff is a Balloon Pokemon
Copyright Info
This site and its contents (including but not limited to text, original graphics, code, and layout) are all copyright (c) 2008 Major Management™, unless otherwise stated. All rights reserved.
Jigglypuff, Pokemon, Pikachu, and all related characters or entities are copyright (c) Nintendo, Game Freak, Creatures, and/or all other applicable parties. Pokemon TCG is (c) Pokemon USA.
Jigglypuff.biz.ly is in no way affiliated with or sponsored by Nintendo, Pokemon USA, Game Freak, or any other third party company involved in Pokemon.
Jigglypuff featured in Video Games
Nintendo Game Boy Color
* Pokemon Red
* Pokemon Blue
* Pokemon Yellow: Special Pikachu Edition
* Pokemon Silver
* Pokemon Gold
* Pokemon Crystal
* Pokemon Pinball
* Pokemon Trading Card Game

Nintendo Game Boy Advance
* Pokemon Ruby
* Pokemon Sapphire
* Pokemon Emerald
* Pokemon FireRed
* Pokemon LeafGreen
* Pokemon Pinball: Ruby & Sapphire

Nintendo DS
* Pokemon Diamond
* Pokemon Pearl
* Pokemon Trozei
* Pokemon Mystery Dungeon
* Pokemon Ranger
* Pokemon Ranger Batonnage

Nintendo 64
* Pokemon Snap
* Pokemon Stadium
* Pokemon Stadium 2
* Super Smash Bros.
* Hey You, Pikachu!
* Pokemon Puzzle League

Nintendo Gamecube
* Pokemon Colosseum
* Pokemon XD: Gale of Darkness
* Pokemon Channel
* Super Smash Bros. Melee

Nintendo Wii
* Super Smash Bros. Brawl
* Pokemon Battle Revolution
Contacting the Administrator
You can contact the admin(s) at any time necessary. If there are page errors or something that should be removed, please let us know. Feel free to contact for information you'd like updated on and more. Also if your wanting to become an affiliate you may contact us as well, we are looking!